How To Fix Subconscious & Law of Attraction Failures
Challenge 2 of 5: "My subconscious is still "fucking with me", despite everything I have tried. How do I become free of my negative, painful or limiting conditioning and programming once and for all? And why does the Law of Attraction not seem to work for me?"
The first step to freedom is realising you are not free.
It took me a long time to realise this for myself.
It was initially difficult for me to see that what I assumed were 'facts' about myself and about life, were simply what I had been societally conditioned and programmed to believe.
Beliefs are not facts.
They just look like facts.
Especially because they have an apparent identity attached to them ('me, mine, my'), and a "voice in the head", self-talk that appears to come from inside you and belong to you. Which is all part of the illusion of separation. The Game of Life.
Anyways, from my growing up in a 'third-word' country, I carried a lot of limiting, scarcity-creating beliefs about myself and the world.
At first, it was a massive, MASSIVE struggle to even SEE these subconscious beliefs - and then it was another mission to let them go, until I discovered the trick.
But it can be done.
I did it.
I am still doing it, it goes on, but the bulk of the limiting beliefs are gone with the wind, I'm happy to report.
There is a method to this madness, a formula.
It is called Mindfulness.
And surrender.
You have heard it before.
Surrender. Let go. Unconditional love.
Without mindfulness, that is very, very difficult to do.
With mindfulness, it is easy.
Mindfulness is a practice, a skill you can learn like any other.
And it is a skill that sharpens with practice (like all skills do).
And I am not talking about the "20 minutes a day" variety of mindfulness (although that also helps).
I am speaking about mindfulness as a lifestyle, whereby you carry on with life as normal - except that you 'see' yourself rather than blindly identify.
And by the way, mindfulness, despite its name, is really not about thinking.
It's about keeping an open heart-space and witnessing.
It's about listening to silent heart-wisdom while non-judgementally witnessing your thoughts and emotions and energy.
It's about being centred in the non-judgemental infinite silence of pure awareness.
Yet, there is one more piece of the puzzle.
Acceptance.
That is the doorway, the beginning.
It makes sense when you really think about it.
And yes, it is easier said than done. But it can be done, once you know how.
Acceptance works on that fact that it takes no time to be who you are, where you are, here now.
You first stop fighting against yourself, against life.
Stop fighting, start witnessing (mindfulness).
And then…. voila!
The doors fling open!
Freedom, insights, understanding, clarity, awakening, abundances, joy, and much, much more, starts to fly in!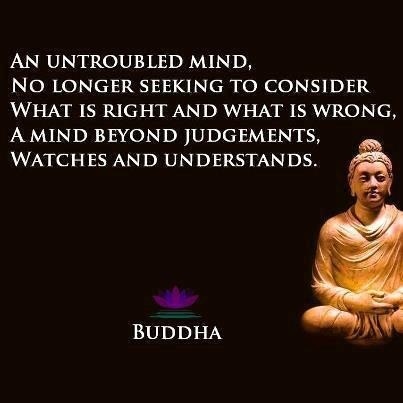 The 'voice in my head' (self-talk) and the 'bad feelings' begin to behave, to align, to clear up.
Slowly at first, and then very rapidly!
You begin to awaken to the giant within!
The kingdom within starts to become in clear sight.
Yes, initially, that means facing your fears, your limits.
But when you face them with mindfulness and acceptance (surrender) rather than trying to 'escape and fix' it all yourself, you turn the tables. That's the trick, and you can pull it off, everyone can.
The Shadow, which haunted you, now comes into the light.
And it's tyranny, its seeming unending possession of your faculties, begins to leave.
It packs its shit, and fucks off.
But not because you forced it out; rather because you 'integrated' the duality, the polarity.
That is what mindfulness does, automatically, effortlessly.
And then you begin to see all the 'hidden rules' (subconscious beliefs), about money and abundance and life, that you were carrying. That were self-sabotaging you.
Subconscious beliefs about yourself and your world that were keeping you away from success and freedom and joy.
People say that the subconscious is 'the elephant in the room' that nobody sees, yet it crashes into everything.
Well, you CAN begin to see the elephant.
You can even become friends with the elephant, and ride it to greatness.

(the elephant and I)
And finally, when you do this, the Law of Attraction doesn't have any more inner subconscious drama to act upon, and it begins to bring you just goodness.
Yes, the subconscious is not your enemy. It just seems that way when your life is controlled by an unconscious ego, rather than an awakening ego.
Yes, the Law of Attraction is always working. It never fails.
It just seems to be 'failing' because it brings to you the sum total of your vibrational offering - which consists of your conscious and subconscious internal reality.
You can easily learn how to get out of your own way.
Know thyself.
And so it is.
Learn More About The Workshop & Download Your Free Workbook. Enter Your Email To Continue...